Indian Ethnic Wear is the most comfortable clothing in the fashion industry. You can carry any Ethnic clothes very easily. Especially salwar suits and its variations are mostly every women's choice of fashion.
Salwar Suits are the most comfort wear for women. Many women or girls prefer palazzo salwar suits to wear for their office or daily basis. You can define its length as per season. Go sleeveless & no collars for summer, full sleeves with churidar for winters.
Nowadays many variations can be seen in Palazzo Salwar Suit Designs:
Kameez can be long or short as per choice.
Salwar have more variations like tapered Patiala, Palazzo.
Kameez is being collarless or mandarin collared with fitted or Bell Sleeves.
Short/Long/Anarkali /Asymmetric many variations can be seen in Kurtis.
Traditional salwar suit designs are in various fabrics and cuts.
Embroidered and printed suit with palazzo are also great choice for Party Wear.
Here by this blog, we are going to share some amazing salwar kameez palazzo variations. You can carry them anytime you are out. also you can adorn them up for your work place or some festivals.
1. Cotton Palazzo Salwar Kurta Designs
Cotton salwar suits are most comfortable ethnic wear. Also their are many variations being done with cotton salwar suits. we can see every Indian women wearing salwar suits for casual day out or office wear. here are some types of flared cotton pants designs you can try out-
Wear a v-neck cotton long kurta with palazzo and add a dupatta to complete the look.
You can wear simple round neck kurta with flared pajamas without any dupatta.
Anita Dongre's cotton suit of block prints are most trending.
You can also adorn minimal embroidered kurti with flared pants for comfortable look.
Collared kurta can also be paired with the flared pants for office wear.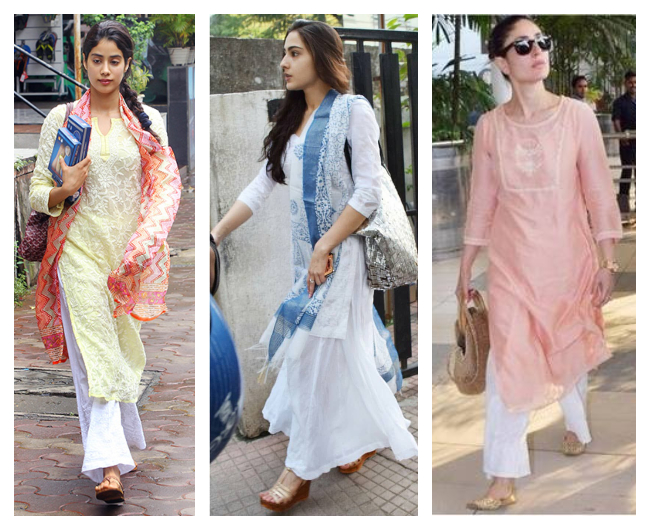 You can get best cotton salwar suit collections here. shop online or video calling. click on picture below.
2. Printed Palazzo Kurti Set
Various prints for palazzo salwar kameez are their in the market. choose as per your personality. like you can go for flower prints or traditional block prints. modern digital prints for western style kurta lovers.
types of prints for palazzo kurti which we can see in the market are-
Traditional hand block prints, bagru prints, dabu prints, ikkat are mostly in demand.
Digital prints are also in trend for lawn suits or designer suits.
Tie & dye, bandhej, batik, leheriya printed suits are also common among ladies party ethnic wear.
You can also find out leopard prints, zebra prints,big/small flower motifs with vibrant colored palazzo suits online.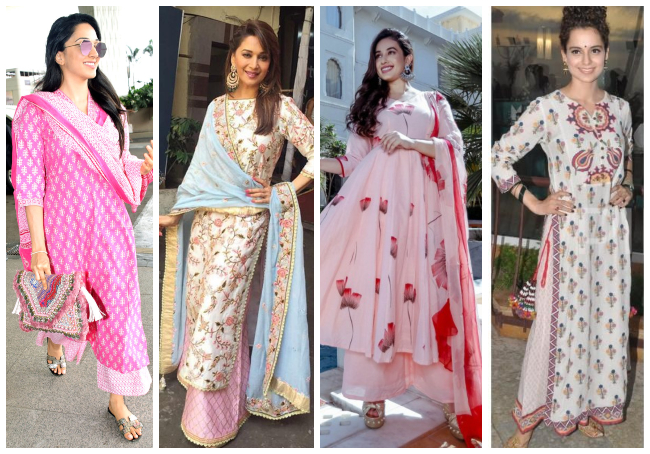 3. Style Your Kurta's with Narrow Palazzo's
Ethnic suits are now being transformed into narrow salwar or narrow kameez. designers have introduced most clean variation of them. some variations are mentioned here have a look!
Straight cut pants with long straight kurta
Narrow fit kameez with sleek pants
Pants of narrow fitting with lace extensions are in trend.
Shop some exclusive palazzo set collection. click on below picture to shop online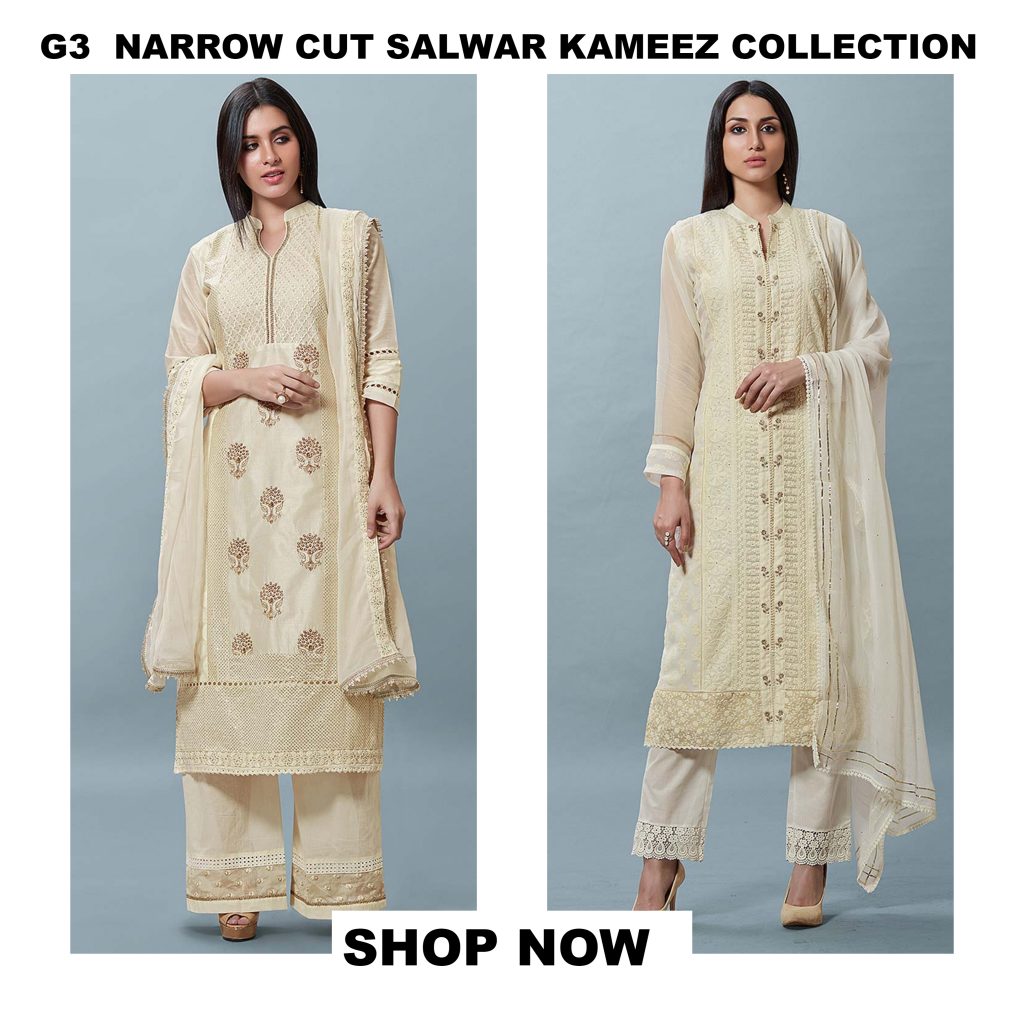 4. Flared Palazzo with Layered Kameez
Flared salwar suits are not Anarkali's. Flared salwar kameez depict a flared silhouette like asymmetric or layered Kurtis with flared pajamas.  Everything has to be in flared cut either sleeves, pajamas or kurta. we have shared few flared salwar kameez looks for you. Plus size or heavy body shaped girls can adorn such flared layered suit design as this will help them to hide all the curves gracefully. Say no to fittings with these looks which are comfortable and can be carried effortlessly. check out some latest trends of palazzo suits.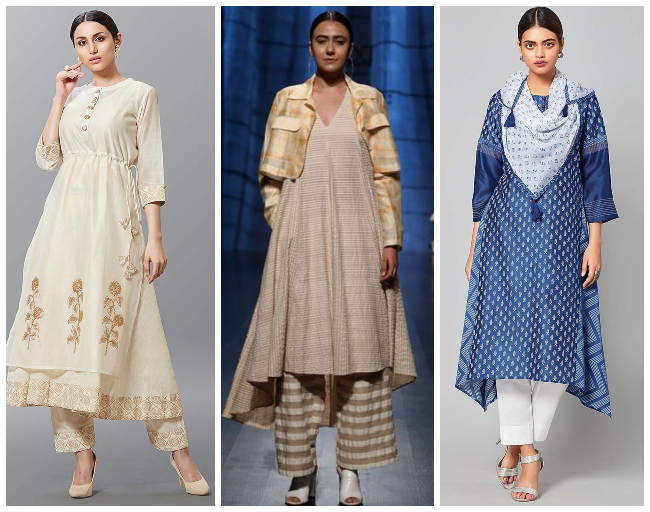 5. Palazzo Set with Mesh Detailing
Net fabric is the most romantic detailing in fancy clothing designs. Nowadays Net fabric clothes are in demand for mostly in party wear. Making of whole salwar suits with net can give it a bit modernized look. Pakistani suits are getting in trend because of their net fabric looks. They also have unique palazzo suit neck designs. Have a look at few detailed embroidered salwar kameez net fabric for modern girls. Many designers are adding glitz and glitter to net salwar suits can be worn for party wear. Satin can also be added to kurti lining.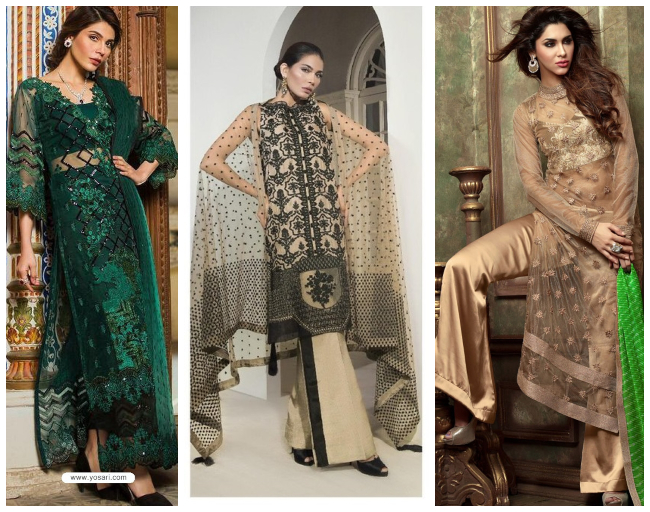 6. Silk Based Salwar Kameez For Festive wear
Salwar kameez fabrics has got many variations in terms of designers collection. Nowadays silk fabrics are in great trend for wedding or festive wear. ladies and  girls are opting for various pieces as per body types-
Skirt style pajamas with long & short silk top is a big trend among celebs for festive wear.
Anarkali palazzo suits can be perfect choice for sangeet outfit.
Silk sharara styled kurta with pastel colors are great for middle aged women.
Heavy silk dupatta with plain shalwar are also in great trend.
Girls with heavy body can go for flared bottoms with straight tops to cover the curves gracefully.
Have a look at breathtaking looks of Bollywood celebs in silk based dresses.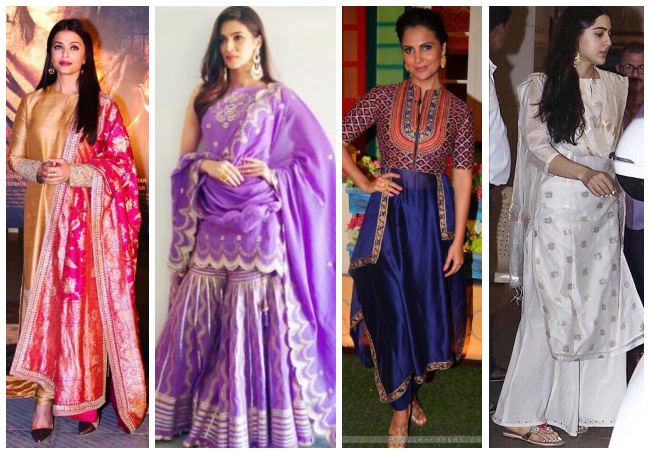 7. Pair up Flared Pajamas with Peplum Tops
Long and covered palazzo dress are back in trend. People are paring long blouses too with lehengas. So peplum styled kameez with salwar can be a trendy way to dress up. You can opt for short peplum top with dhoti pants. Or you can wear free palazzo and sharara with peplum top. You carry peplum outfits for college or partywear. This will give you trendy and chic look.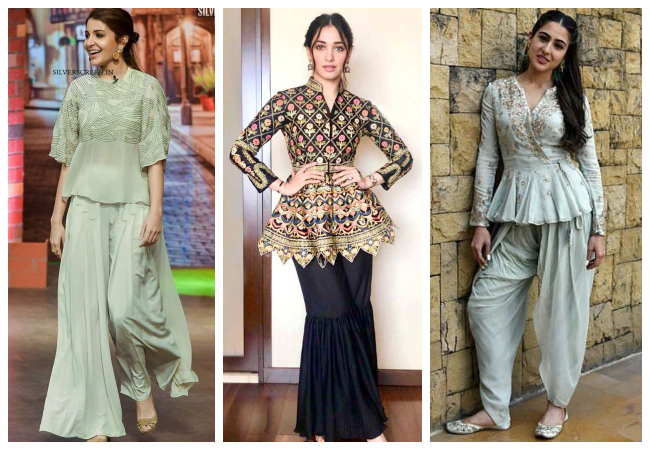 8.  Chikankari Embroidered Salwar Kameez
Chikankari is back in trend with many variations. nowadays we can see many chikankari outfits like lehengas, pajamas, kurta's being adorned by Bollywood celebs. You can also style a chikankari outfit gracefully for any occasion. Variations of chikankari which we can see-
Chikankari Anarkali simple/embellished kameez with leggings or churidar.
Simple chikankari kurta with laced up pants.
Pair a side open straight chikankari kurta with duppatta for a casual function.
Colors can be experimented with light and dark shades as per occasion.
9.  Fully Embroidered Palazzo Kurta Designs
Salwar kameez with various embroideries can be seen in the market. Various types of embroideries in trend are embellished embroidery, heavy thread embroidery, silk/zari embroidery etc. These outfits can be ideal for wedding occasions as they will give a heavy look. Floor length suits or long ones with dark and light color palettes can be seen worn by various celebrities. Many designers also have done variations in embroideries on salwar suits.
Going out for a party shop some exclusive embroidered palazzo suits here. click and shop online!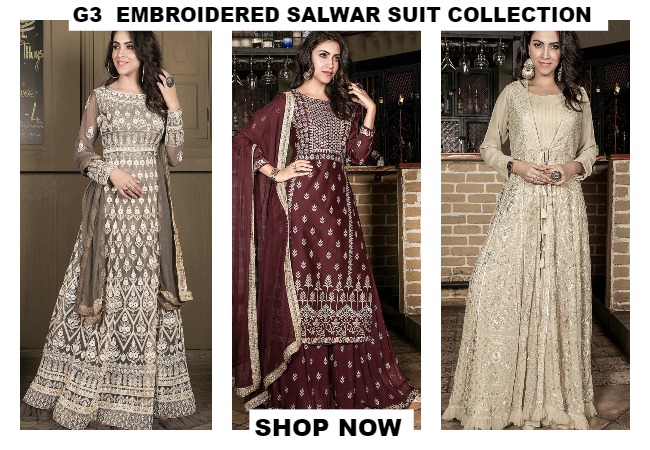 10. Long Kameez Palazzo Set
Long Salwar Kameez trend started by Pakistani fashion industry. Many Indian designers have curated new long salwar kameez trend. Their are many ways you can pair long  kurti with flared pants
Pair a long ankle length straight cut kurta with straight cut pants
Long asymmetric palazzo suit design.
Go for long front slit kurta with pants or churidar.
Try out collared long chiffon suit dress for chic look
Girls you can either pair a Patiala, Straight cut pants or Dhoti etc with long kameez of various styles. Have a look at some of the styles below.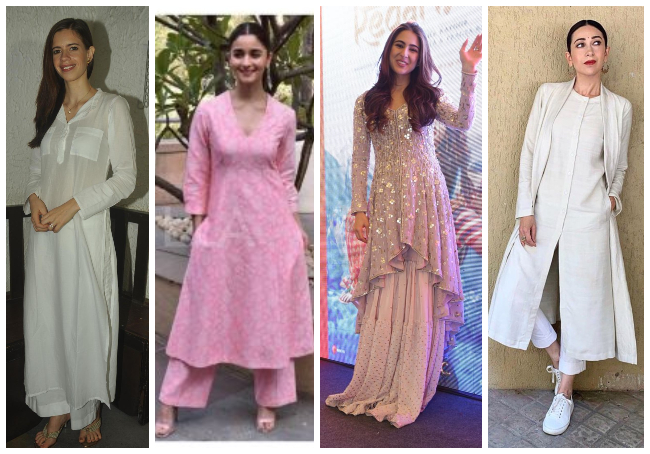 11. Anarkali Paired up with Flared Palazzo
Say no to fitted clothing with Anarkali palazzo look. Girls who want to go easy-breezy with their outfits can go for such style. Pair a simple Anarkali cotton Kurta with cotton palazzo for a day out. Also you can go for heavy Anarkali with palazzo set for festive occasions. Have a look at some beautiful Anarkali palazzo salwar designs below.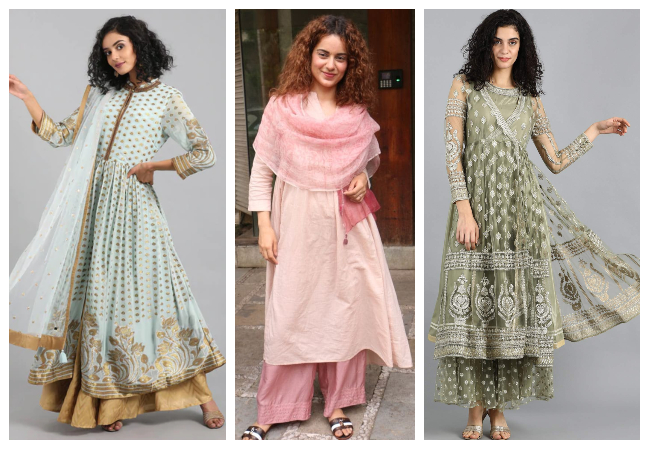 12. Kurta with Palazzo in Indo-Western Style
Designers have given new dimension to Indian salwar-kameez. Indo western salwar kameez style is in top trend wore by every Indian celebrity. you can also try out such styles for any occasion for chic and bold look. Try out pant style salwar kameez with draped dupatta for work wear. Cape top kameez with palazzo salwar will go for girls day out. Pair harem pants with short kurta or side slit kurta with dhoti pants for festive wear.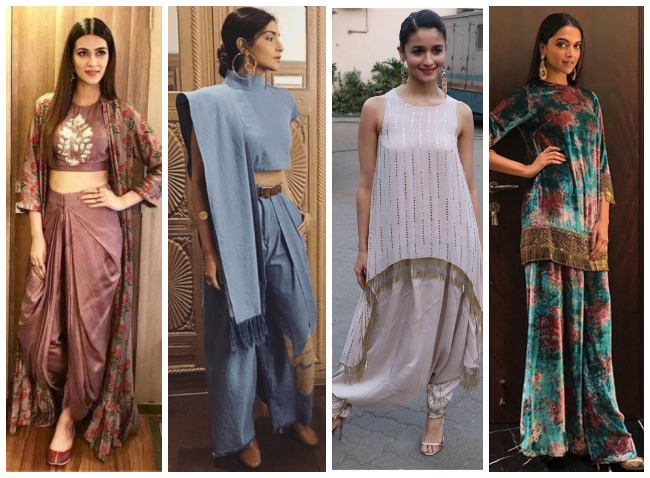 13. Heavy Salwar Kameez for the Indian Brides
Many Indian brides go for heavy salwar kameez for various wedding occasion. You can also try out heavy wedding salwar suits- like anarkali of full handwork or cape dresses/gowns. Try out net cape style wedding outfit for reception. choose dark or light shades as per your skin tone. Bridal wedding suits have also got many variations by Indian designers like Rohit bal, Sabyasanchi, Manish malhotra etc. They have many exquisite collection for different brides suiting their style.
Click the below picture to do wedding salwar suits online shopping!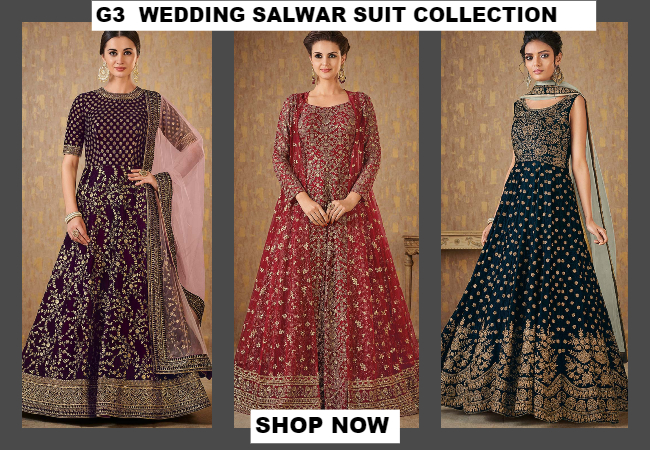 14. Pastel Shaded Salwar Suit looks
Every Bollywood celebrity have been seen wearing pastel colored salwar suits for various occasion. Whether it is big town wedding or dine out or movie launch, new to old age actress has been going for pastel shades outfits. You can also try out for pastel color shades like- Ivory, cream, beige, sage green, peach,etc for your ethinic look. Check out some trending salwar suit with dupatta looks below.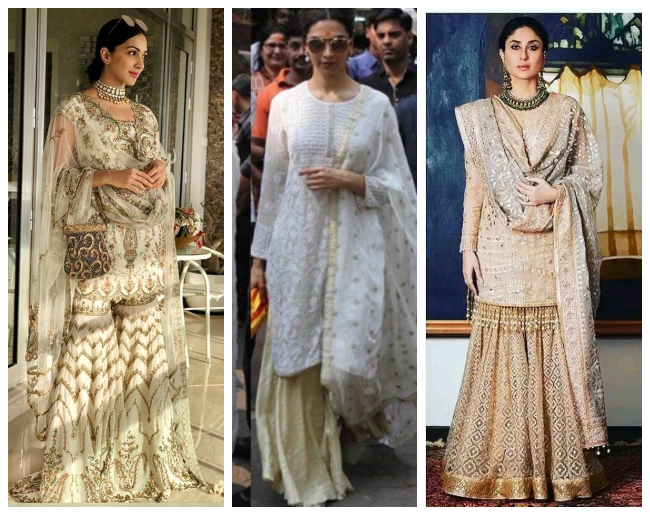 15.  Brocade Palazzo Suit Look for Party Wear
Brocade fabric fashion is back with different variations. Nowadays brocade silk lehengas, salwar kameez are in great trend for party wear. Brocade salwar kameez give a great festive wear look with bright colors. Also we have seen many celebrities opting for brocade salwar kameez for a great ethnic look. These can be great options if you dont want to go for embroidered heavy look.
Various ways you can adorn brocade into palazzo salwar suit styles-
Carry a heavy brocade dupatta with simple silk salwar kameez.
Try out boat neck brocade kurta fitted pants designs by Raw mango brand.
Go for brocade Anarkali suit with palazzo for festive occasion.
Also you carry simple long brocade kameez with plain salwar/sharara.
As the wedding season is coming so get styled as per latest other top celebrities ethnic party wear looks.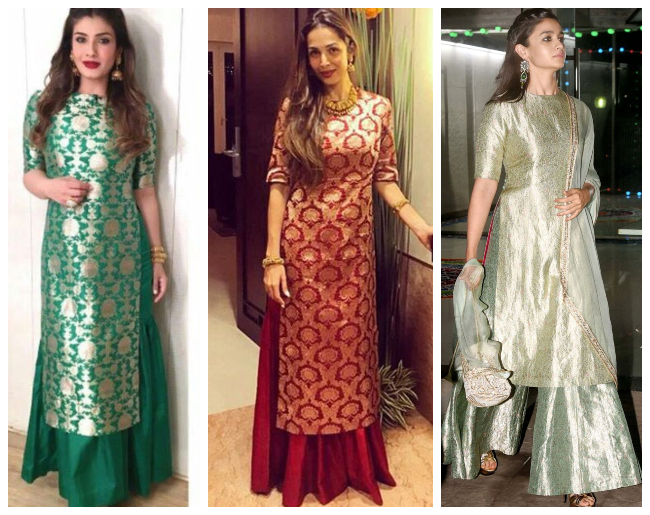 16. Front Open Kurta with Palazzo pants
Front slit kurti with pants has many variations. Such style is ideal for plus size body figures. you can carry a front slit kurta or a Anarkali with every ease and variations like:-
For casual wear go for simple front slit long kurta with chiffon palazzo
Pair a front open Anarkali printed simple kurta with bottoms for occasion wear.
Try out heavy printed bottom's with front slit kurti for festive wear.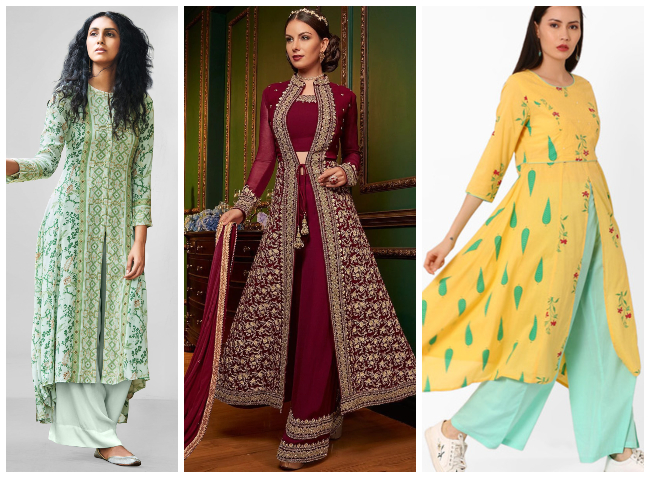 17.  Short Kameez with Palazzo
70's fashion short kurta styles are back in trend. Girls are pairing short kurta's with palazzo's for almost every occasion. Pair a short peplum top with pants for casual look. Also for wedding or festive occasion go for short kurta with embroidered pants. This look is ideal for sharara pattern as short kurta with display of full sharara pleats look.
Every bridesmaid or bride can go for such style. Have a look at below picture for ideas of the look.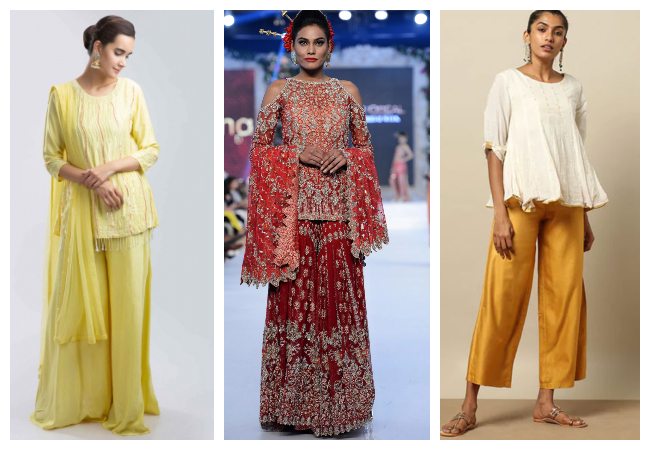 18. Crop Top Paired with Palazzo
Crop top is  a western style pattern for salwar kameez. You can see many variations are their for crop tops for palazzo suit neck design. you can pair a crop top palazzo's as per your style. Style a cape top or shrug with your crop top and slay your look. As you can see from the below picture various crop tops are being paired differently.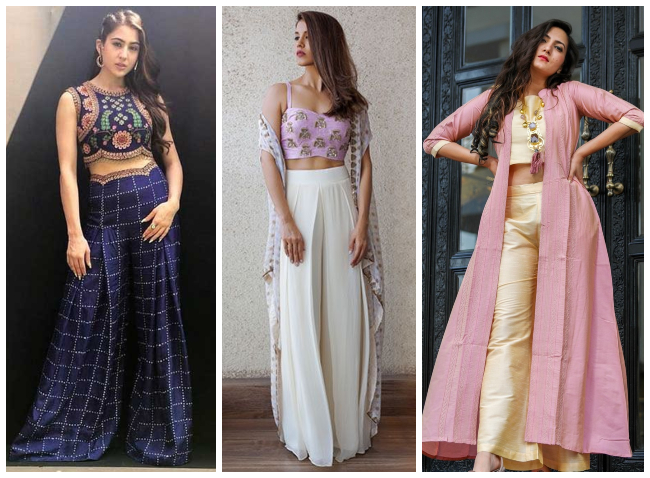 Click the picture below to shop some exclusive crop top palazzo salwar suit online.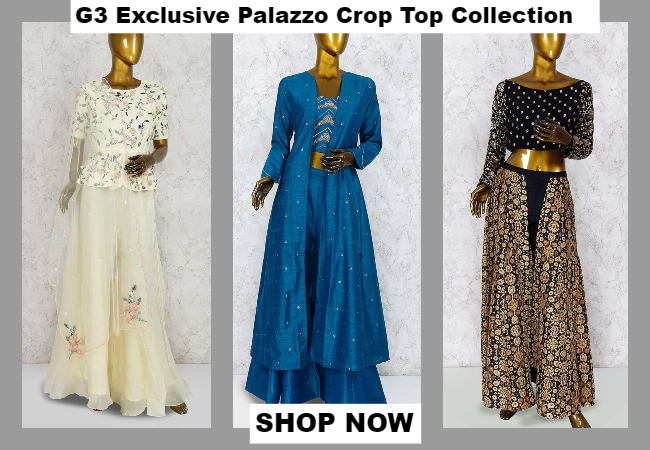 19. Asymmetric Tops with Palazzo Bottoms
Asymmetric dresses is of different styles. Many designers have experimented with salwar kameez variations. As you can see in the below picture of different hem designs of tops and bottoms have been experimented. You can also get yourself different asymmetric designs like-
Hi-low length Anarkali kurta
One-off shoulder top with pajamas
Handkerchief style hemline of kurta
Draped poncho style or kaftan styled kurti with pants
Get inspired by below pictures for different palazzo salwar design by designers.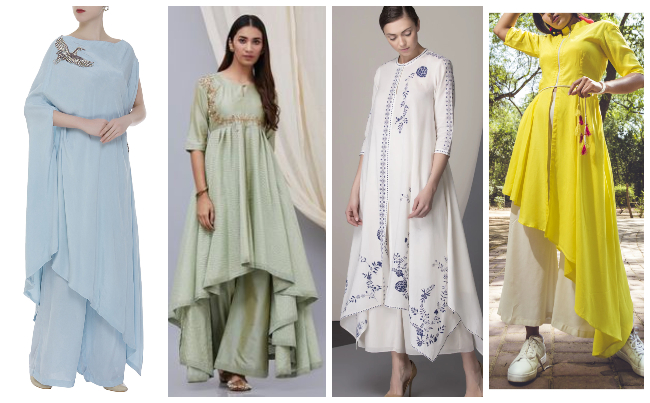 20. Bollywood Celebrity Salwar Kameez Looks
Indian Bollywood Actresses have been seen wearing different kinds of sharara for almost every event or promotion. New age actresses are mostly declined towards ethnic clothing. Picture below picture depicts some of our favourite celebrity salwar kameez looks.
Actress like Sara Ali Khan, Shilpa Shetty, Katrina Kaif, Alia Bhatt, Kareena Kapoor wearing sharara style salwar kameez in different fabrics like cotton, brocade silk, Velvet etc.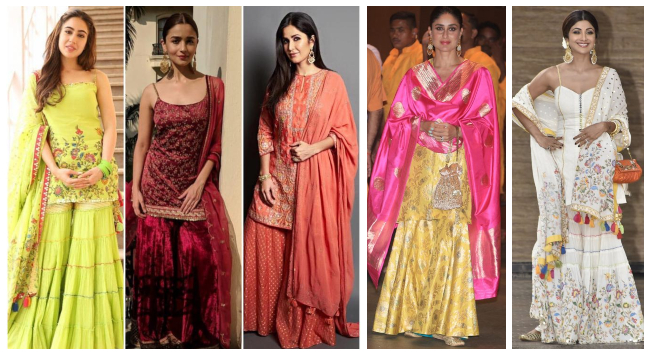 So, ladies screenshot your favourite looks from the above and get ready with your trending palazzo kurti design for coming festive seasons. Go read out 55 types of latest salwar suit designs and Thank us later!
Follow facebook page for latest collection update on salwar kameez- https://www.facebook.com/PunjabSalwarKameez/