Punjabi suit and salwar have long been popular among Indian ladies. But they have recently attracted the attention of designers and worldwide celebrities. This is why these comfortable, easy-to-wear Indian garments are available. In a wide range of styles and patterns incorporating. Both traditional and modern aspects.  
Bright colors are simply expected in this sort of attire, but the latest Punjabi suits go it a step further. By incorporating neon pinks, blues, yellows, and greens, which are now fashionable. Depending on the occasion and your preferences. A Punjabi salwar can be mostly fashioned in a variety of ways. 
Latest Punjabi Suit Alluring Styles
Punjabi designer suits are typically one-of-a-kind, with rich ornamentation and delicate shapes. Making them a popular choice among brides who want to appreciate traditional styles. While maintaining current silhouettes and fit. 
There are many different styles with unique techniques. Which you can adopt to make your appearance moreover traditional. On different festive occasions. 
Today, I am with a blog, guiding you about trendy Punjabi salwar suit designs ideas. Which are bold in colors and unique with patterns. 
Go Simple with a Regular Punjabi Suit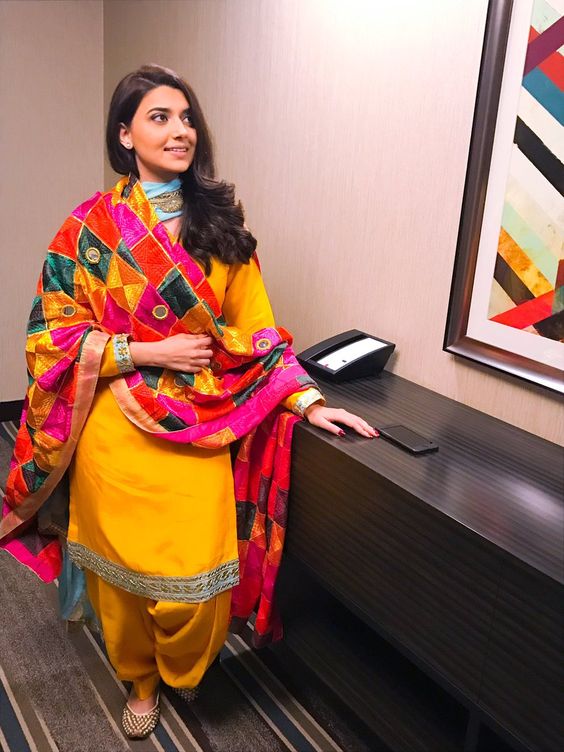 The style is basic and most adopted regular attire for many women in India. Crafted in a breathy fabric with a comfortable fit they are the perfect attire to deal with any occasion. With a bright color and minimal work, it looks mesmerizing. When paired with perfect accessories. To enhance it more add a traditional phulkari dupatta and slay gracefully. 
Patiala Punjabi Salwar Suit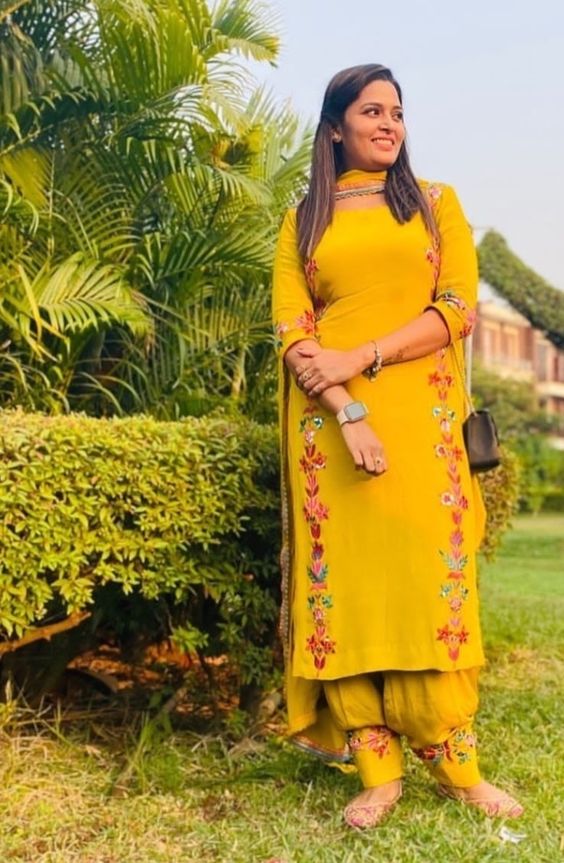 Known from the pattern of the salwar with multiple cowling techniques. It is perfect to add a traditional touch to your look. With intricate embroidery and amazing salwar style. It is a great choice to pick for casual outings too.  
To make it more unique you can add embroidery work on the bottom of the salwar too. A plain dupatta with minimal lace on the border is enough to enhance the beauty of the whole salwar kameez attire. 
Traditional Ghagra Punjabi Suit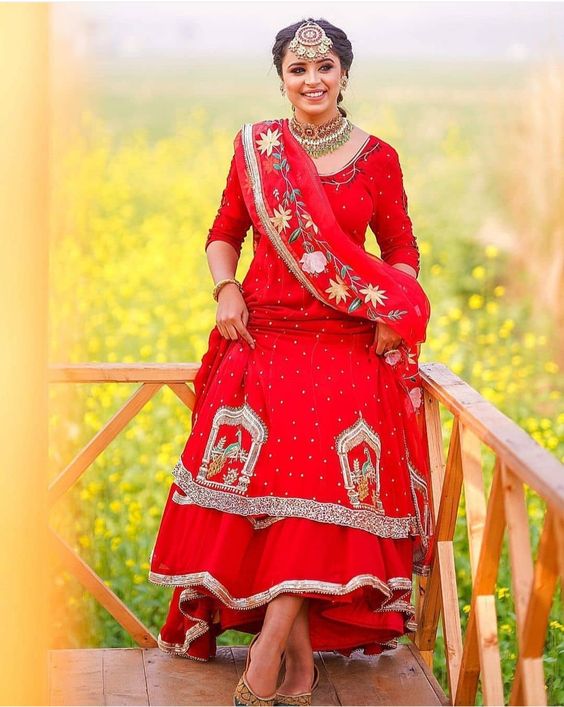 From the roots of Punjab, it is the most classic style adapted by women from the north region. Comes with a long kurta with intricate work and a fully flared ghagra. It looks so soothing with a plain dupatta and authentic traditional jewelry.  
The style is very much in nowadays with bright colors and unique style. Try to make it a part of your closet to appear perfect. With fascinating Aura and the breeze of our roots. 
Sharara Style Punjabi Suit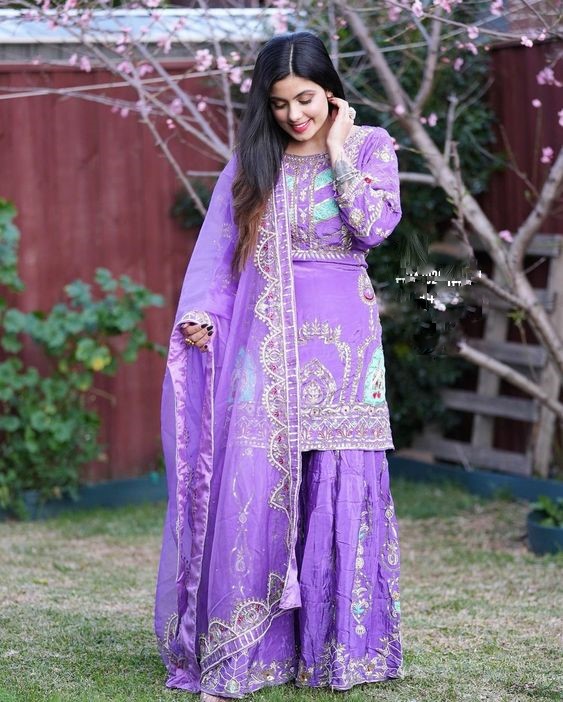 The amazing style has all the elements to simply be in your ethnic wardrobe. The breathy Sharara style with short Kurti and dupatta with intricate golden work. A pair of nice earrings is enough to add grace to the whole attire. The salwar kameez design looks more beautiful in pastel colors.  
As well as beautiful embellishments on the dress make it more alluring. Make sure to add at least one pair of amazing Sharara-style Punjabi suits to your wardrobe. 
Anarkali Style Punjabi Suit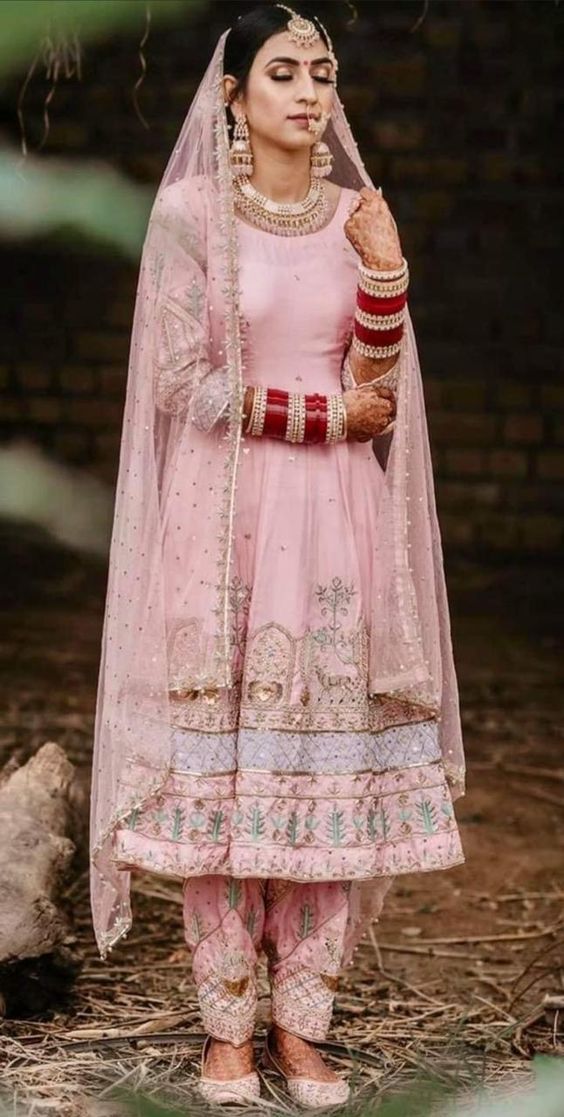 This is another popular style Instead of the conventional short kurta. Anarkali Punjabi suits have a flared long kurta with golden Zari and zardozi work. They're great for more formal situations like weddings as a guest and as a bride too.  
These Ethnic wear dress Punjabi outfits simply come with brighter as well as pastel hues. Followed by unique patterns and embroideries. Also, these are very popular throughout the wedding season. Even, I suggest that you should try your hands with this alluring style. 
Palazzo Style Velvet Punjabi Suit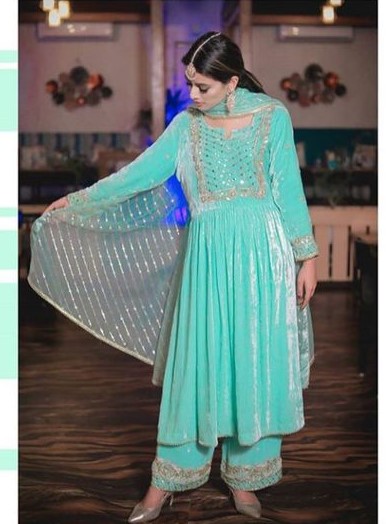 Palazzo pants are all the trend these days. This version of the Punjabi suit makes one look more refined and classier. In this style of Punjabi salwar suit. The kurta is significantly longer and straighter with mid-length. And paired with a nice ankle-length airy palazzo and a nice dupatta.  
Available in different fabrics, colors, and styles they're trendier nowadays. In which the velvet ones look very elegant and soothing when you wear them. They were very comfortable for both casual as well as formal occasions. 
Dhoti Style Punjabi Dress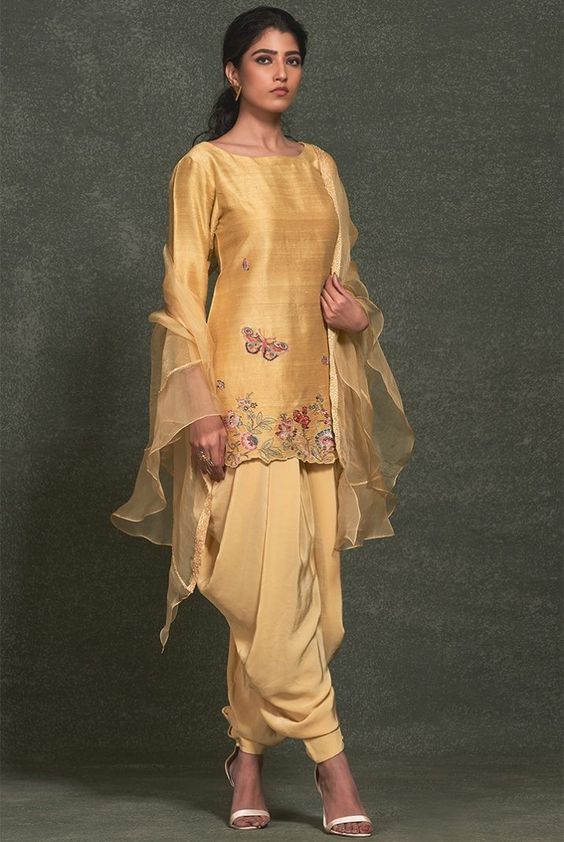 These are the new Punjabi suit design outfits with a fusion dhoti touch to salwars. Dhoti salwar suits resemble Patiala salwar suits. But the dhotis are more breathy and over pleated. When you want to wear something classic and relaxing, the dhoti looks best. When worn with a short Kurti with minimal embellishments and intricate embellishing techniques.  
It can also be simply worn with a straight Kurtis followed with peplum and tunics too. To make it a more classic look just add a pair of dupattas and be ready to glam differently. During festive as well as wedding seasons.  
Peplum Style Patiala Salwar Suit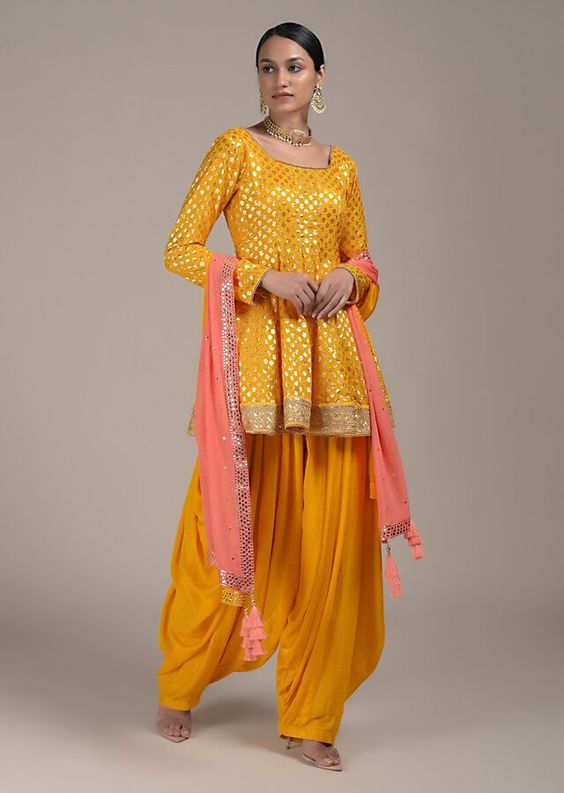 The latest Punjabi suit design with a peplum style would never be fashionable. The combination of fashion with tradition is a winning combination. For weddings and festivals, it is the first choice of newlywed brides and young ladies. These days, the new design suit is the most popular choice.  
With unique vibrant colors and amazing work techniques with different dupatta styles. It goes perfectly to make you look fascinating with a trendy aura. Different colors and amazing neck styles make it more alluring to pick. Do try these amazing readymade salwar suit styles to be trendy. 
Jacket Style Punjabi Salwar Kameez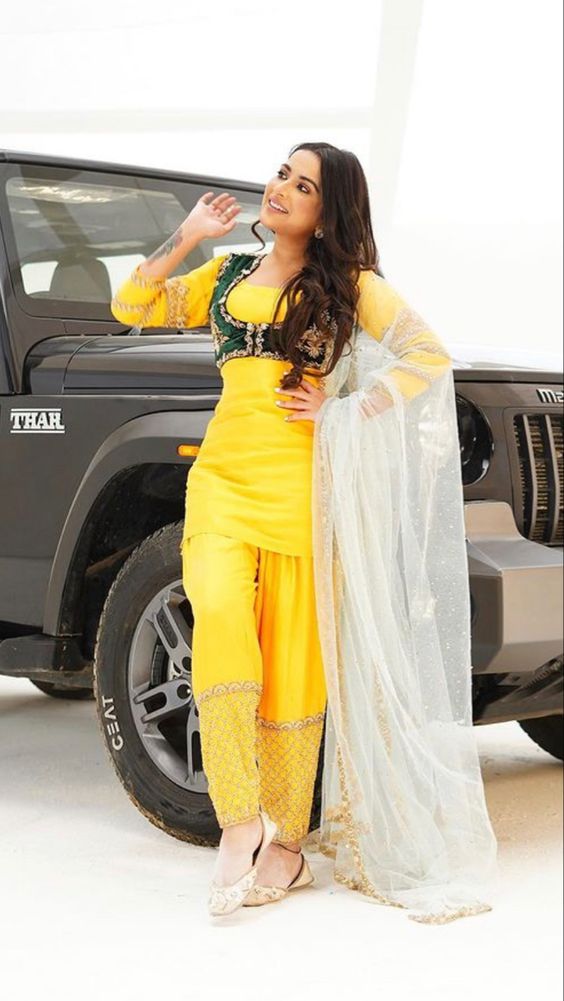 The style is modern and trendy to add a touch of grace to your simple Punjabi salwar suit outfit. An elegant topcoat complements the ensemble. It looks fantastic with short or long coats and shrugs as semi-formal attire. To make you look fascinating, make a complimenting appearance.  
By wearing and heavily worked short jacket with your plain new Punjabi suit attire. You can even do the thing vice versa in an embellished suit with a plain jacket. The style looks adorning if you choose it for weddings as well as ethnic occasions. Do rock with your looks adapting this amazing style and even making it a part of your wardrobe too. 
We have tried our best to give you some ideas about the latest trend in the Punjabi salwar suit nowadays. With amazing style and unique patterns with different colors. Hoping that you will opt for any of these amazing styles. To look alluring during different festive as well as wedding occasions. 
Also do read our blog on Perfect Punjabi Salwar Suit to Pick this Coming Eid for more Ideas