Ramadan is in full swing, which means Eid shopping for Punjabi salwar suit is in full swing as well. Some people start their shopping before Ramadan begins. In order to avoid the crowd and save themselves the hassle of shopping while fasting. However, the majority of us keep waiting for the latest fashions and bargains to start. which causes our shopping to be simply delayed. 
With new style trends developing every festive season. Style-conscious ladies must stay up with the latest ethnic wear. For festivals and be well-versed in them. Aside from the clothing designs, women must also know. How to dress this contemporary festive wear. To achieve that faultless look and stay on top of the fashion game. 
Punjabi Salwar Suit For Eid
Getting a nice Eid outfits collection, on the other hand, can be a difficult chore for ladies nowadays. As fashion trends change frequently. And there is a broad choice of ethnic wear collections accessible. In both online and physical markets. 
Hence, to make the selection of festival ethnic wear easier for all the women out there. Mentioned below are some of the most stylish and trendy outfits that you can choose for this Ramadan. To look like a diva and make a stunning appearance at the Iftar parties and on Eid day. 
Printed Anarkali
Punjabi Suit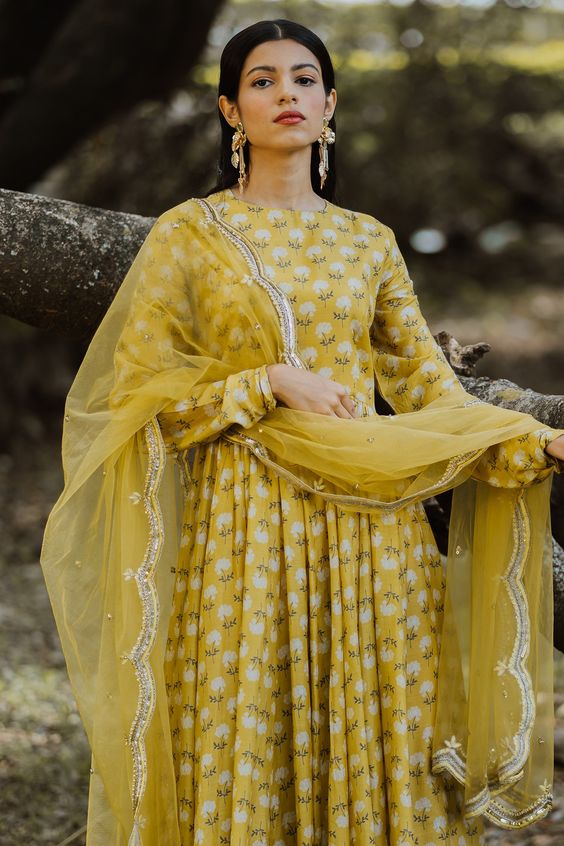 The holiday of Eid is extremely important, and everyone wants to look their best on this day. For the occasion, a block-printed Anarkali salwar kameez with sequence cut worked dupatta. Carried around the neck with refreshing olive color is ideal. To complete your Eid new salwar suit design outfit. So, add Maangtika and Jhumki to your ensemble and dazzle everyone with your looks. 
Ivory Sharara Punjabi Salwar Suit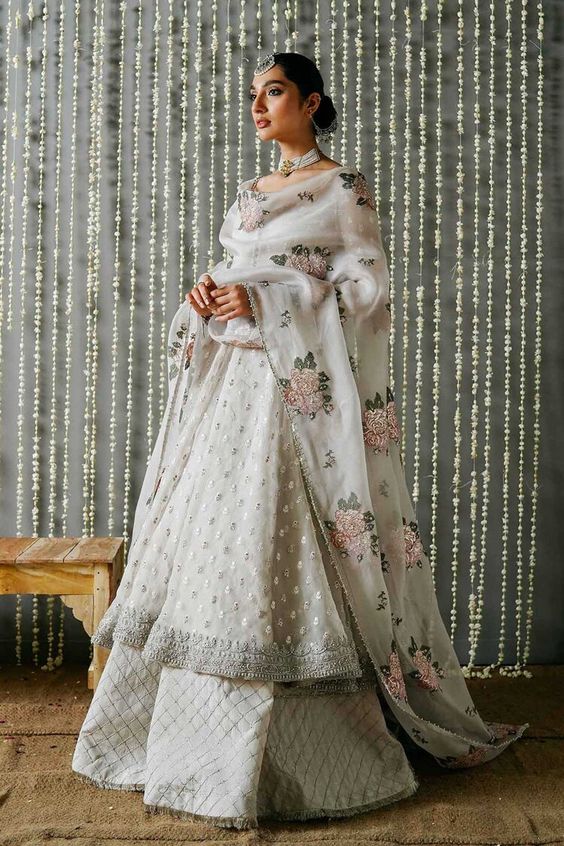 Sharara is a well-known traditional garment that is ideal for a festive look. It has a feminine and sophisticated look with pleated loose slacks, a Kurti, and a chunni. Choose a designer Sharara salwar suit for women in soft pastel colors. With sophisticated chicken work and a nice floral complimenting dupatta. For an attractive aesthetic that will make you stand out during Eid. 
Pakistani Punjabi Suit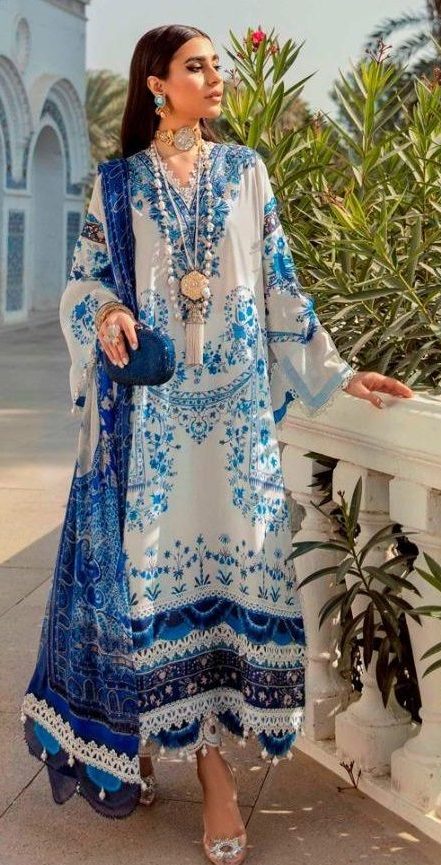 Influenced from Pakistani fashion. The Punjabi salwar suit design has a special place in our hearts. Therefore, they are a must-have in every wardrobe. With embroidery, patchwork, chicken Kaari alluring prints, and decorations. So, if you're undecided about what to wear for Eid, opt for a Pakistani suit in a light color and seem regal. As well as spice up your conventional style. Always, try experimenting with designer necklines and bold sleeves. With statement neckpieces. 
Straight Cut Punjabi Salwar Suit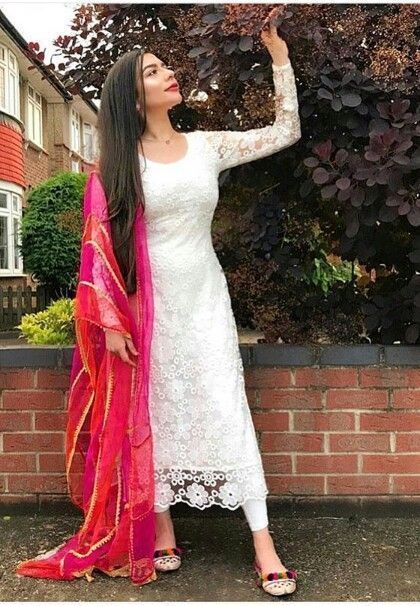 Because Eid will fall during the summer this year. Many of us would want to keep our festive looks simple yet exquisite, and guess what? Straight Punjabi salwar suits are the ideal choice for the weather and occasion. A white lace fabricated long Kurti goes well with contrasting dupatta and churidars. Accessorize with Jhumki's and bangles to complete your ensemble. Thus, adding a nice jutty will enhance its grace. 
Peplum and Palazzo Style Punjabi Suit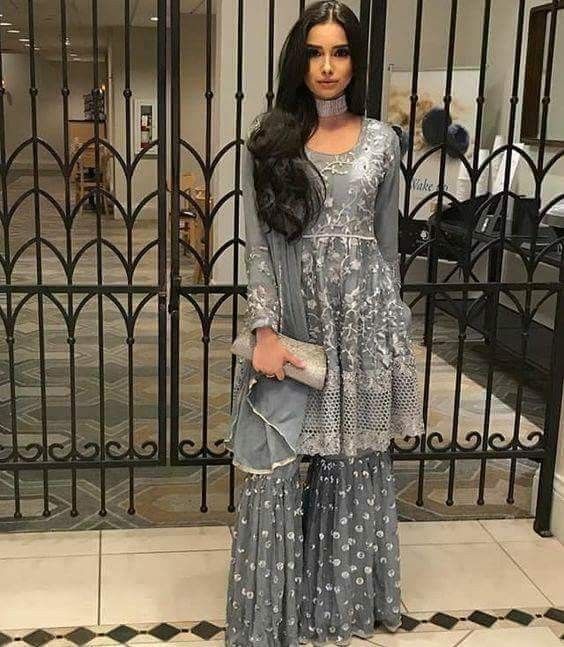 Palazzo Punjabi suits are the trendiest and most stylish trend these days. And they make an elegant and intriguing addition to any woman's Eid wardrobe. You may be simply guaranteed to look fantastic. with a comfortable aura in this outfit. Hence, Make a fashion statement in these layered bell-sleeved net peplum kurta. And amazingly worked palazzo set. The grey color and charming silver make you stand out during the Eid party. Therefore, enhance your look more by wearing sober diamond jewelry with a readymade salwar suit. 
Short Velvet Punjabi Suit
Salwar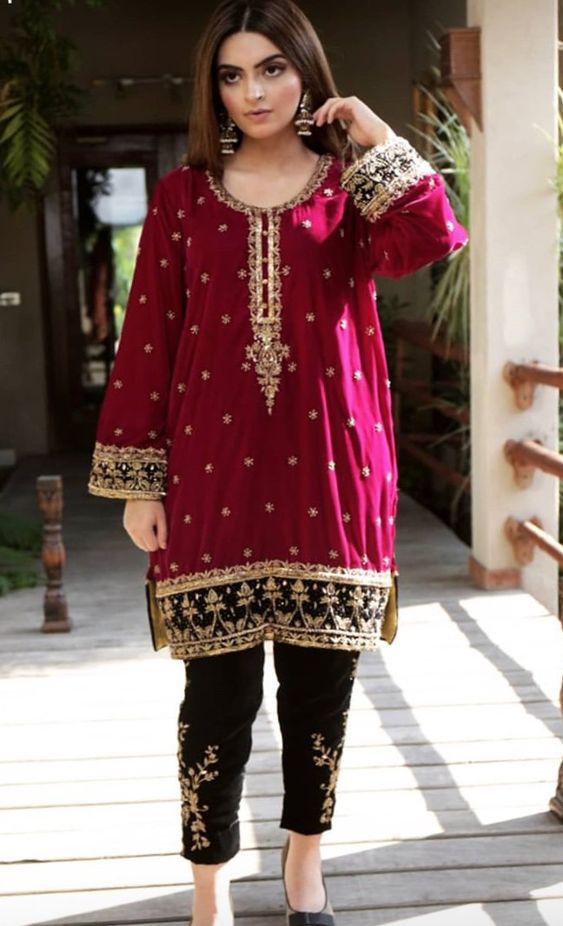 You might have a collection of short ladies suit salwar in your closet. Pair straight pants with that lovely and striking velvet short Kurti. On the other hand, is a somewhat trendy Ramadan costume. Hence, this fashionable Eid attire is particularly popular among young women. But with the race of being stylish. It is also popular among middle-aged women who want to look their best during this festive season. Therefore, the amazing red Kurti with golden work and narrow pants. Makes you appear different during Eid. 
Patiala Punjabi Suit
Salwar
Punjabi suit Salwar is also known as Patiala Salwar. Hence, it is the most widely worn salwar pattern with a simple appearance. Yet they give you an elegant appearance. Patiala attire brings forth your sense of tradition. It is ideal for Eid celebrations because of the elegant impression it provides. The kameez is short or just above the knees. And the salwar is loose with pleats going sideward from the top to the bottom. The Patiala Salwar Kameez for Eid is simply finished off. With a large rectangular dupatta in rich hues and patterns. 
After the saree, the salwar suit is the only other option for the Eid costume. With widespread recognition. The Salwar Kameez is the greatest option for ladies of all ages to wear during Eid.
Also, with all of the above styles in mind, you can buy a salwar suit online shopping with your favorite style and color. Do have a look at the amazing ethnic wear online store g3fashion.com. For the latest and alluring collection of ethnic wear women's outfits and Punjabi salwar kameez for the coming Eid festival.
Also, read our Blog on Fashionable Salwar Suits for Ladies for more ideas.