Punjabi Sharara Suit and Ghararas have been a part of our traditional garments for centuries and have been worn ever since. but it is only recently that they have made a tremendous resurgence, and what a comeback it is!! Shararas and Ghararas are a favorite in every woman's closet. Because of their edgy traditionalism and trendy contemporary flair. These wide-legged and flared trousers look stunning with little Kurtis and highlight one's form since they fit all body types.
Women's Designer Punjabi Sharara Suit
Sharara Suits are available in a variety of patterns and styles. however, designer sharara suits are the finest to select from the sharara bucket. Raglan sleeves, lantern sleeves, bracelet sleeves, and more styles of designer sharara suits are available. Ghagra trousers, straight pants, and flared pants.
Also, some of the several forms of pants are seen in designer sharara suits. If you're heading to a family function or occasion and want to wear a hefty suit to stand out and become the party's favorite. designer suits are the way to go.
Shararas is a great choice for weddings and events because they are comfortable, elegant, and fashionable. They are available in a wide range of designs, patterns, and styles. The sharara suit has undoubtedly made a comeback for obvious reasons. Many celebs have also been seen wearing Shararas in Bollywood films.
Women's Jacket Style Punjabi Sharara Suit
These outfits will also have you looking like a diva. A jacket style sharara is not only comfy but is also adored by fashionistas all over the world.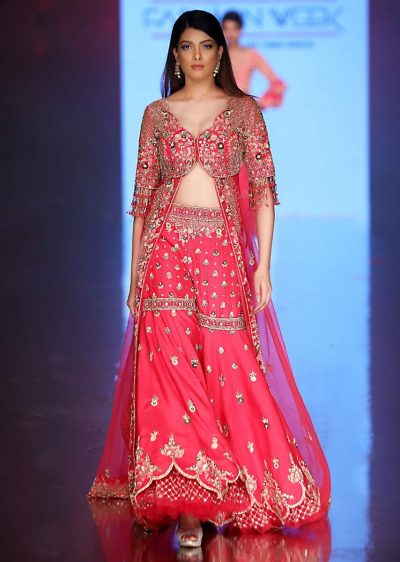 A jacket type sharara is a four-piece salwar kameez with a jacket that can be long or short, like a waistcoat. The embroidered kameez looks great with a matching sharara and dupatta. Furthermore, The jacket can be a contrasting color or the same color as the dress, and both look lovely during weddings and occasions.
Wedding wear Frock Style Sharara Suit for Women
These are the most popular sharara-style suits worn by modern women to achieve. Moreover, right look for any family gathering, wedding party, or another occasion. To complete the look, choose a body-fitting knitted short frock-style Kurti.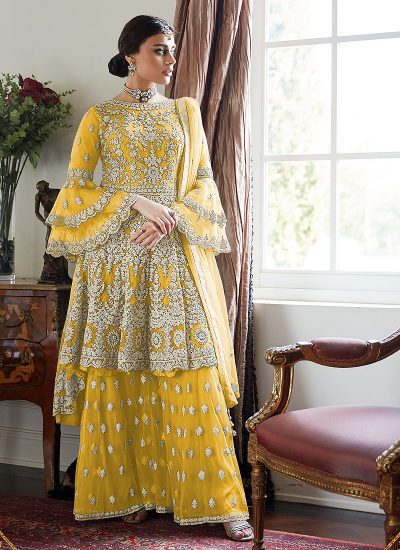 This type of sharara dress for women features a flowy sharara and an eccentric and beautiful frock style short Kurti. These Kurtis provide your sharara suit with enough room. to show off its exquisite and feminine appeal. When zari, thread, diamonds, and sequins are used to embellish the frock style, Kurti, looks very gorgeous.
 Printed Cotton Sharara Suit for Women
Wedding season is right around the buckle as well.
Cotton handmade sharara suits will be the most acceptable alternative for all your wedding festivities
.
Family gatherings, or day-time parties, considering how stuffy and heated summer days would become
.
These sharara dresses for girls are the fashion of the highest quality cotton. and will keep you cool and comfortable throughout the day without sacrificing style.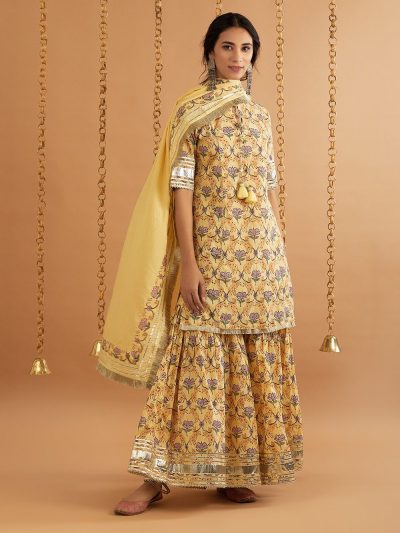 It has beautiful floral prints and detailed embroidery, which is the most popular style among girls currently. For the wedding with all the shenanigans like a sangeet or reception. you can go with bold colors like cherry red or sour orange. You may finish the outfit with oxidized silver ornaments and a matching mang tika. 
The elegance of the Pakistani Sharara Suit
Sharara is also gaining popularity on the other side of the border, where it may be more popular than gharara. Although stunning, the Pakistani sharara suit is heavier, with exquisite. Detailed crystal and glitter embroidery.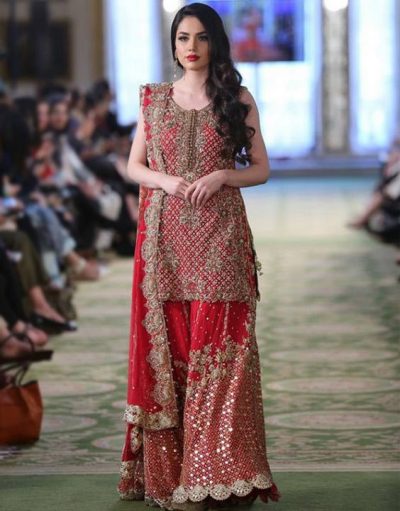 In a wedding ceremony, embroidered shararas are the ideal to wear. A Pakistani style of sharara has a distinctive pattern and is embellished. Beautiful embroidery and embellishment work made of sumptuous brocade or silk material.
So it brings us to the end of the topic. This article may have motivated you to come up with an iconic perfect notion for your fashionable style. Do you want to spice up your Indian ethnic wardrobe with a celebrity-inspired salwar kameez? We've got you covered. Then make a formal visit to G3fashion.com for the most up-to-date designer salwar suits for ladies in a variety of pricing ranges.