The traditional and beautiful red salwar suit is noted for its style and comfort and is one of the most authentic garments. The dress has grown in popularity to the point. Where it has become the outfit of choice for many women all around the world.  
Designers from all over the world have come up with a variety of designs. Alterations and revisions over time not only to keep up with trends but also to meet popular demand. 
Celebrity Inspired Red Salwar Suit for Different Occasion
However, this shift in tastes and inclinations. This does not mean that the practice of wearing traditional clothing like suits has died out. women continue to wear salwar suit sets on a variety of occasions.  
And the good news is that they now have a wide range of styles and trends to pick from! With a perfect combination of warm and light color codes. In which red is the most popular hue that ladies opt for on many occasions.  
Today I have segregated a few red alluring and adorning salwar suits celebrity looks to opt for making you appear, diva. With intricate works and creatively unique patterns make some trendsetting moves.  
Raveena Tandon in Red Anarkali Suit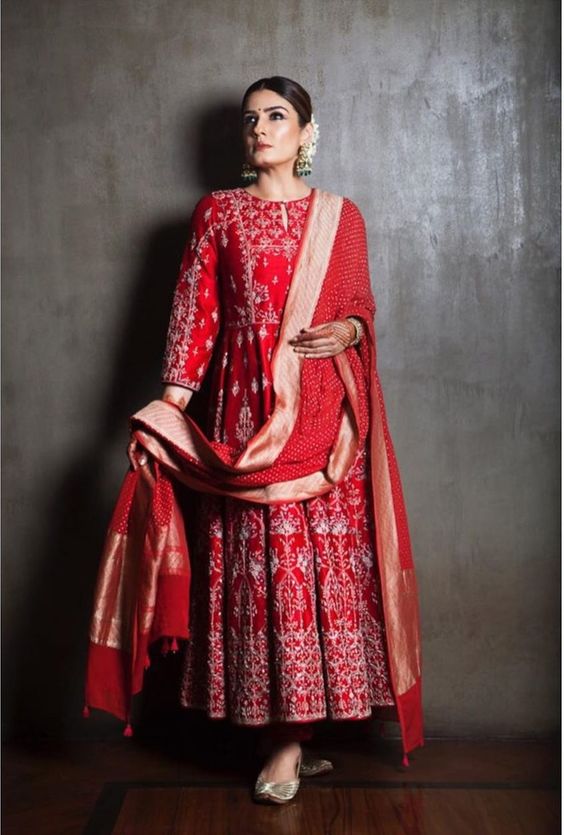 This combination of flared salwar. And tight churidar or ankle-length palazzo trousers. Often known as an Anarkali salwar suit, has been in favor for a while! It's ideal for hot or humid conditions and adds classic elegance to your ensemble! Flared salwar suits are available in a wide range of designs and styles to suit every occasion. The amazing Gotta Patti work red Anarkali is looking mesmerizing on actress Raveena. When paired with golden Jutti. Enhance your style by adding a nice pair of Jhumki and a Veil of Gajra in your hair if you love flowers. The look is complete to make you look diva for different occasions. 
Aishwarya Rai in A-Line Red Salwar Suit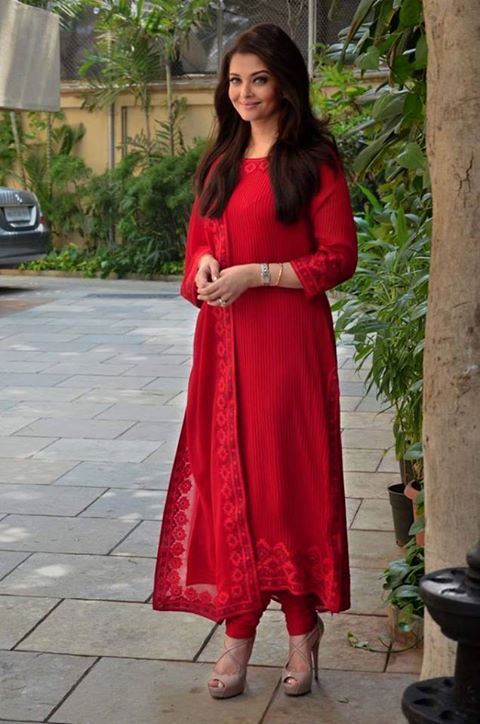 To truly be the belle of the ball, sometimes all you need is a basic costume. The greatest (and simplest) way to accomplish this. Is to purchase in some nice everyday A-line salwar suits. They are both comfortable and timeless. Classic fashion is brimming with a slew of A-line Salwar suit designs just begging to be in your wardrobe.
This crimson cotton silk salwar suit with Resham embellishment. And narrow-bottomed palazzo trousers in the same material are our favorite celeb-inspired look. The amazingly patterned dupatta comes with intricate print and sequence work. Making it more alluring to carry and be appear like a diva fascinatingly. 
Kareena Kapoor in Red Straight Cut Salwar Suit 
Wearing a Kurti with churidar salwar. As well as pants is a long-standing tradition that will never go out of style. It's simple, elegant, and upraises your entire impression of all things understated! You may wear a straight-cut long readymade salwar suit As Kareena Kapoor has worn. With a churidar to work, yes, it counts as formal attire. You can carry it to a little family gathering.
Not only is it too heavy, but it's also not too light and you can wear it to any festival if you want a basic yet complete look. To complement the style, choose an embroidered or somewhat heavier Kurti. And a plain churidar with a ruffled dupatta or heavy worked dupatta. 
Himanshi Khurana in Patiala Red Salwar Suit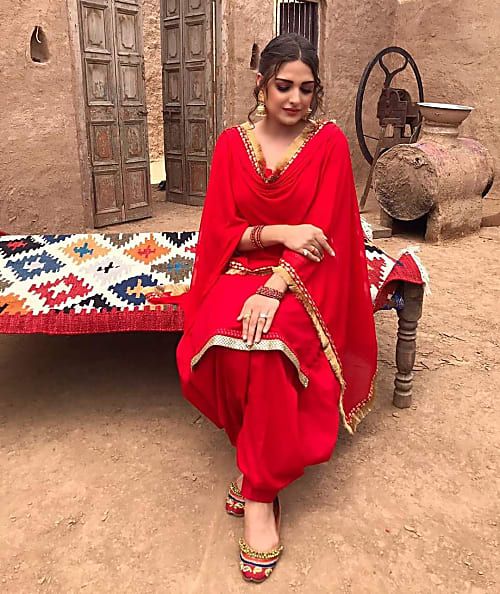 The Patiala set is one of the most popular and well-known salwar suits for women ever. Ask any woman, and she'll almost certainly have a pair of Patiala salwar suits in her closet. There is a large variety of fusion Patiala salwar suits to choose from, each one better than the last. The traditional Punjabi new salwar suit design continues to reign supreme. Worn by everyone from women in the regions of Punjab and Haryana to young college females.
These classic Punjabi suits are popular for their comfort. And they come in a variety of embroidery and fabric selections. The amazing red Kurti with authentic Zari work suit well on known singer Himanshi Khurana. With a nice lacework looks so alluring and is ready to make your diva look. 
Parineeti Chopra in Red Dhoti Salwar Suit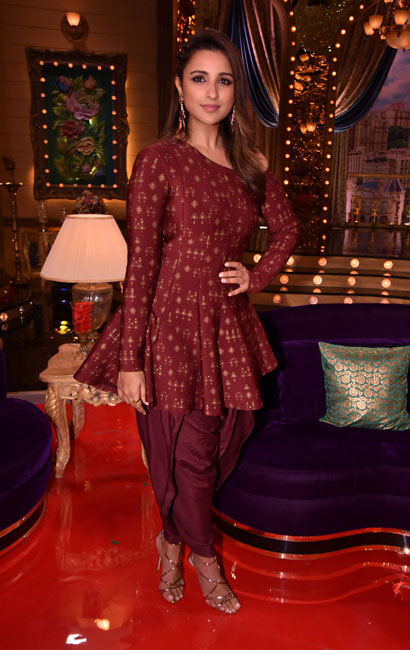 The dhoti-style salwar's have a little variation in their stitching. Which makes this suit salwar kameez moreover trendy. They are currently in a rage with celebrities like Parineeti Chopra flaunting the Style at traditional dos with flair. These suits showcase pleats one by one going straight up. Unlike Patiala, they don't gather at the single bottom part but elongate along its length.
The amazing Intricate mirror work. With golden Zari thread and red dupatta, it is so alluring to carry it for any occasion. The latest salwar suit design is a great style to pick for a fascinating diva appearance in different prints and amazing peplum and short kurta. You can easily be the center of attraction with this salwar suit for women. 
Hope you allure our suggestion for this amazing red salwar suit for women collection. And you will try to opt for it on many occasions. 
Also, you can choose from a wide selection of Punjabi ladies' suit salwar. By salwar suit online shopping and wear this exciting, traditional clothing option. For forthcoming festivals and weddings make the ultimate style statement. 
Also, read our blog on 10 Must-Have Palazzo Suits for Summer for breathy kurti ideas.