Indian cultural Palazzo Suit dress is the comfiest attire in the fashion world. Any ethnic attire can be easily transported. Palazzo salwar suits have many types and variations. Are a popular fashion choice among ladies. Palazzo sets come in a variety of styles and are the most comfortable to wear.  
Palazzo salwar suits are popular among women and girls who wear them to work or on a daily basis. The length of time it lasts is widely influenced by the season. Go sleeveless with no collars in the summer, and long sleeves with a churidar or pants in the winter. 
You can wear this attire to a party or outing with friends right away. You can just take it out of your closet and add it to your party outfit. This vibrant, colorful, and modern attire will make you look fashionable and up to date.  
Different Styles of Palazzo Suits
If you don't have the exact outfit, a long palazzo and a straight kurta can be simply substituted. Use an embellished palazzo pair with a handcrafted embroidered dupatta and tunic tops. Hence, it will make you look more adorable. 
Today we are with a blog guiding you about a few trendiest ways to carry your palazzo suit attire. To appear stylish with your looks for slaying the coming season. 
Short Kurti and Palazzo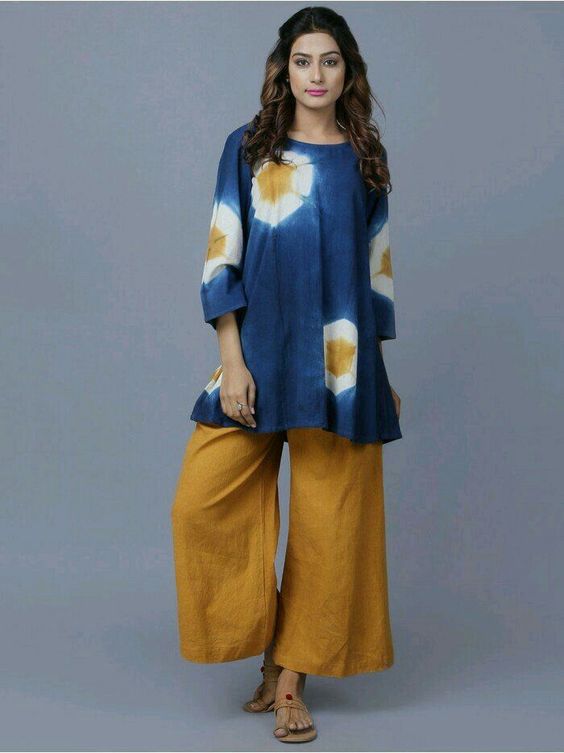 You can be in a simple tie and dye patterned kurta palazzo set with plain mustard palazzo. To make your outing or home parties comfortable and creative. Adorn it with nice classic pieces of oxidized jewelry. And ready to slay in some amazing trendsetting styles. The look will work for both casual as well as social occasions. 
Peplum with Flared Palazzo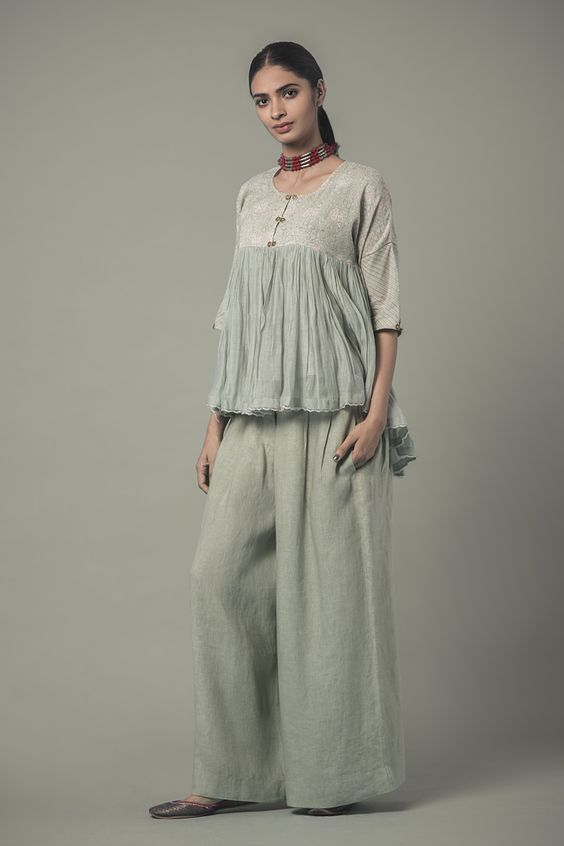 The creatively patterned Peplum style up and down Kurti palazzo suit sets are very much inn. The soothing calming grey color, with minimal work around the neck and an airy, flared palazzo. The style is very tricky yet trendy to appear differently. Thus, pair it with a nice pair of jutties and minimal accessories. 
Crop Top and Pleated Palazzo Set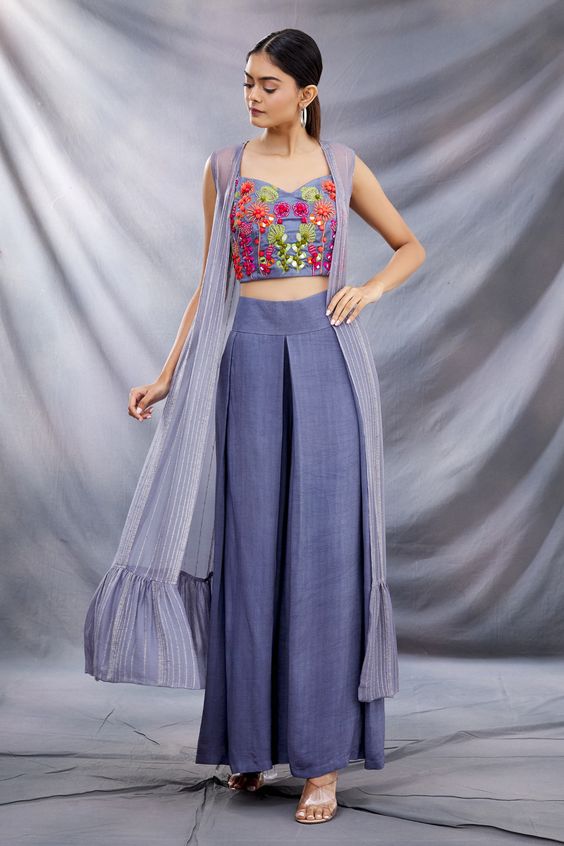 Infused with the western arena the style is quite trendy and a great party, as well as casual party, pick up. With a heavily worked crop top and pleated pants. The attire is the perfect blend of Indian and western looks. Adding a shrug emphasized it more and makes you look stylish. The attire is ready to slay hot summery outings in a full comfier and confident way. 
Flared A-line Kurti and Palazzo Suit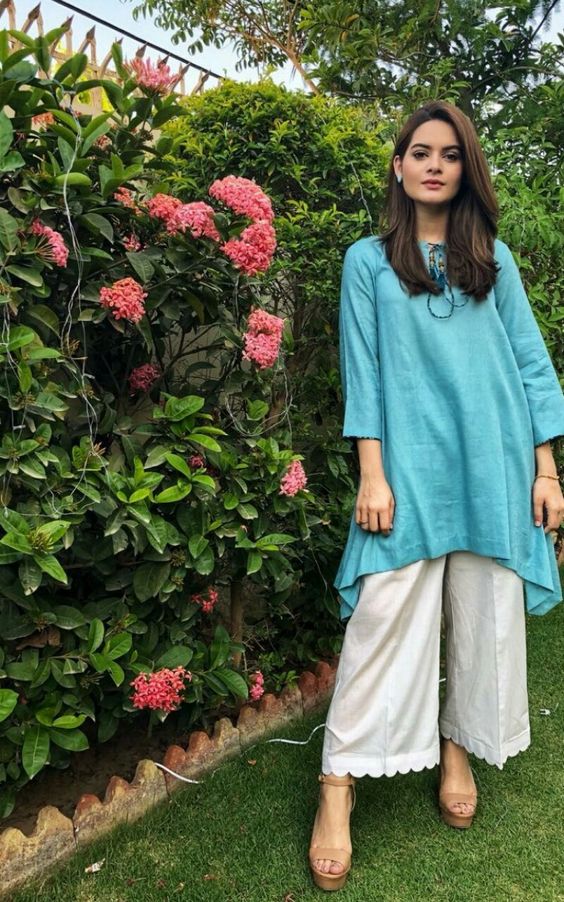 The look goes well with party outings as well as casual and business meetings too. The amazing scallop hemmed palazzo looks alluring. With this cotton, silk A-line flared Kurti and nice trendy heels. The amazing pattern on the neck emphasizes the grace of the whole look. The style is completely ready to make you stand out among different meetings. 
Slitted Lace Kurti and Palazzo Suit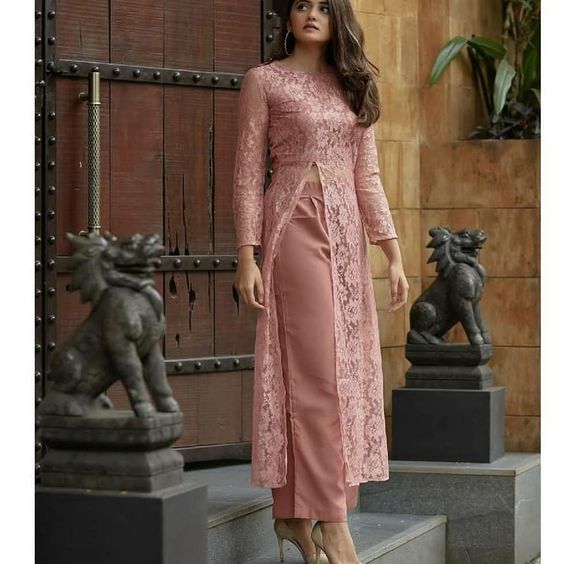 You can go with this beautiful Lace Kurti with a nice side-front slit. A solid pastel palazzo with the same hue looks perfect to make you look amazingly perfect. The style is perfect to match casual as well as formal occasions. The beauty of the lace fabric enhances your look and makes you feel like a diva. 
Short Kurti and Layered Palazzo Set
Make your look ethnic look alluring with this amazing Palazzo suits design. The Green sequenced strapped neck Kurti goes perfectly with layered palazzo. The creative pattern of the three-layered flare on the Kurti makes it more adorable. Pair it with nice earrings and the perfect pair of footwear. The look is perfect to cope with ethnic occasions. With an amazing refreshing appearance. 
Slitted Anarkali and Palazzo Suit Set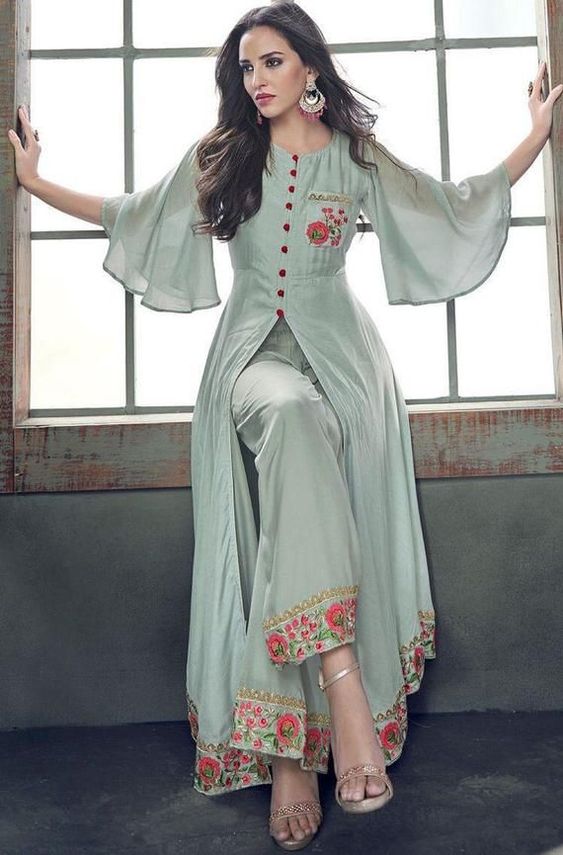 The amazing style is perfectly induced with some trendy cuts. To make a perfect look for wedding occasions as well as any ethnic event. A soothing pastel georgette attire looks alluring with bell sleeves. The intricate work of floral embroidery with vibrant threads makes it more alluring. Pair with trendy traditional accessories and glam any ethnic event perfectly. 
Long Patterned Kurti Palazzo Suit Set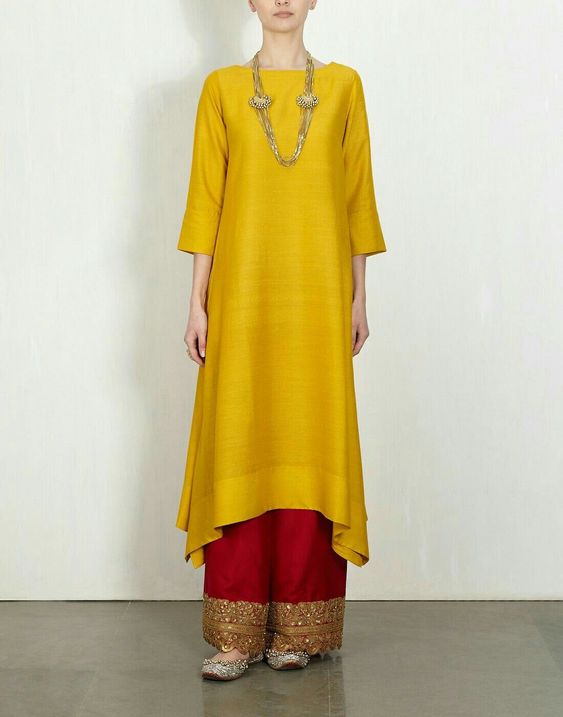 The vibrant yellow and red-colored kurta and palazzo set is a perfect choice. To make your aura refreshing and alluring during wedding evenings and ethnic gatherings. The plain silk mustard green up and down Kurti goes well. With straight red palazzo embellished on the hem. The look goes perfectly when you pair it with nice Chandbalis and a perfect pair of jutties. 
Hope our suggestions guide you a lot to make trendy and creative looks. During different occasions with different styles. Buy these amazing styles of palazzo Kurti set online. Be in a creative and unique aura. While choosing the sophisticated style and look of the kurta palazzo set online. 
Also, check our latest blog on 10 Must-Have Palazzo Suits for Summer for more ideas